This has been a difficult year in many ways, but we continue to make things work as best we can. Our counterpart organization Mano a Mano Bolivia focuses on health and education, and despite the challenges of 2020, they have completed new schools and clinics; distributed medical supplies & equipment for COVID-19 support; provided continuing health education and educational materials (often virtually); and have many other projects underway for the second half of 2020 and into next year (whenever we are able to work safely and effectively). Schools have been closed for the year in Bolivia, but our network of clinics continue to serve a vital role in providing access to primary health care for communities in rural Bolivia. Through the first half of 2020, Mano a Mano clinics have had 561,964 total patient visits.
Patient Visits in Mano a Mano's 173 Clinics
As a part of the Bolivian health care system, Mano a Mano's network of clinics provide monthly reports to the Bolivian Ministry of Health. Our clinic program's approach is that health outcomes can be dramatically improved with simple yet effective interventions, beginning with the basic ability to consistently access quality services in their own communities. While COVID-19 has been the dominant health issue of 2020, primary health care is needed now more than ever.
| | | |
| --- | --- | --- |
| Type of Patient Visit | Number of Patient Visits | Percent of Visits |
| Adult | 150,703 | 27% |
| Dental | 102,526 | 18% |
| Vaccinations | 76,647 | 14% |
| Pediatric | 57,370 | 10% |
| Obstetrics and Gynecology | 16,782 | 3% |
| Other | 157,936 | 28% |
| Total | 561,964 | 100% |
Mano a Mano Clinics and COVID-19
In addition to the patient visit information detailed above, staff in Mano a Mano clinics have worked to navigate the challenges presented by the pandemic. Serious cases have been referred to larger hospitals with ICUs, and in some cases where it was difficult to find places with room available, they have been cared for in Mano a Mano clinics. It is normal for Mano a Mano clinic staff to visit all community residents on a regularly scheduled basis, and that has taken on heightened importance during this pandemic as an opportunity to provide information on how residents can stay as safe as possible. It also allows staff to actively search for people with symptoms and get them tested for COVID-19. Some communities decided to isolate themselves from the outside world, and in those locations Mano a Mano clinics have provided care alongside traditional medicine. Our clinics have been used as a place for people to quarantine, and in general have served as the first and only options for people to turn to for health care in the communities they work in.
Of course, there are many challenges; the pandemic has been extremely difficult for the entire world, and health care systems that have more limited resources have been more heavily impacted. Nothing is perfect, but we are doing the best we are able to in these hard times.
New Clinics & Schools Completed
4 de Junio Clinic
Litoral School
New Clinics & Schools Underway
The Qhapajtala school (bottom left picture) was started on February 5, 2020; the Sumala clinic expansion (bottom right picture) was started on March 2, 2020. For obvious reasons, the targeted completion for both projects has been delayed.
Projects Planned For 2nd Half of 2020 (more than likely extending into 2021):
Ines Urey Laguna Carmen School
Tunas Chillca School
Machaca Clinic
Molani School
Colchani Clinic
There are many school and clinic projects not listed here on our waiting list that we are currently looking for funding.
---
Continuing Health Education
A critical component of Mano a Mano's health program in Bolivia is to provide health education:
to communities through weekend health clinics providing basic services
to Mano a Mano's clinic staff through continuing health education workshops
to medical professionals from other organizations
These programs are managed and administered by Mano a Mano Bolivia, and serve a complementary role to the construction of community clinics throughout rural Bolivia.
Our normally scheduled continuing health education programs were not able to take place due to COVID-19. Our last 2 completed workshops took place in February and March, with 128 participants combined. Each of these workshops included virtual participation with medical professional volunteers from Mayo Clinic; our staff are looking at ways to be able to do more virtual workshops going forward (it can be difficult, with many of our clinic staff living and working in rural communities with limited access to internet). The workshop in February was our 152nd course, for 43 nurses working in tropical regions of Bolivia; topics covered included Dengue, Chagas, Leishmaniasis, and COVID- 19.
Building Furniture & Materials for Mano a Mano Bolivia Projects
At Mano a Mano Bolivia's warehouse in Cochabamba, staff build supplies and equipment for Mano a Mano schools and clinics. Constructing many of the building materials ourselves, in bulk, helps reduce construction costs and ensure fully equipped and functional projects. With many of our new schools and clinics being delayed, some staff have been reassigned to build up our stock of materials to be ready for when we can get back to work on construction projects.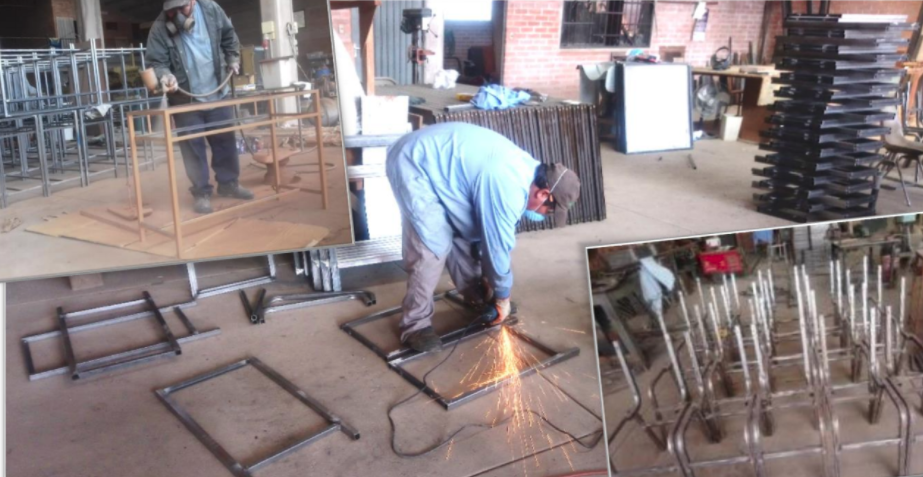 Distributing Medical Supplies & Equipment
In addition to near-daily donations of medical supplies and equipment made by our counterpart organization Mano a Mano Internacional, Mano a Mano Bolivia has made dozens of distributions this year. These supplies are always in high demand, but have taken on added priority and importance because of COVID-19.
Recipients of medical supply donations made by Mano a Mano Bolivia so far this year include:
32 2nd & 3rd Level hospitals
20 public health clinics
55 Mano a Mano clinics
18 police & firefighter units
84 donations to individuals in need
Thanks Mano a Mano Bolivia!
This post is a non-exhaustive update on what our counterpart organization Mano a Mano Bolivia has been able to accomplish so far this year. We are very grateful for the hard work and dedication of our staff and volunteers – and the communities, municipalities, and donors we partner with – that work together to make this possible, even in trying times.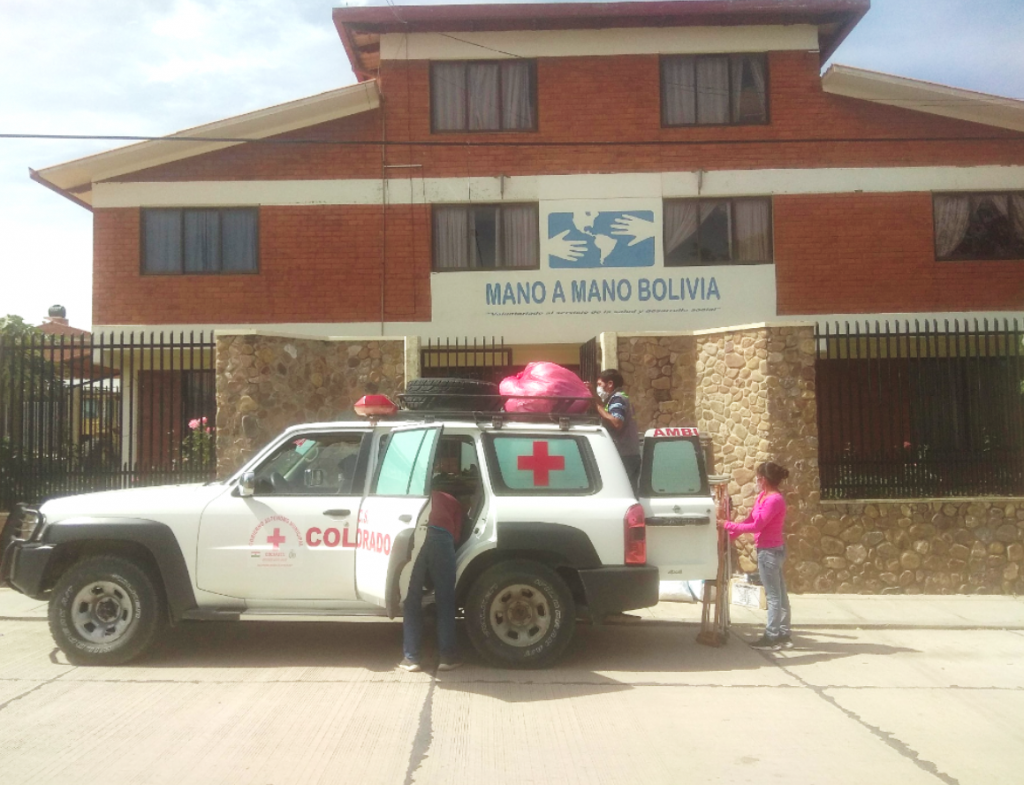 Mano a Mano Mid-Year Review: First Half of 2020
Below are a few updates from some of our other programs (Mano a Mano is made up of 5 counterpart organizations focusing on different community development projects) through the first half of this challenging year: