Every year Mano a Mano's aviation program airlifts 300-400 seriously ill or injured individuals from remote locations in Bolivia to urban hospitals. But when the pandemic reached Bolivia in March, all flights were grounded, both within and out of the country. After ten weeks of quarantine, we received permission to fly for COVID-related purposes in May.
---
Even in the best of times, Bolivia's Amazon Basin departments of Beni and Pando face the challenges of minimal, often impassable roads and few health services. The full-force entrance of COVID into these departments magnified those challenges. Each flight into this region returns with its own story, occasionally one of heartbreak but, most often, one of joy and deep gratitude.
First Flight in Riberalta in May
Mano a Mano's first May flight to Riberalta, near the Brazilian border, revealed the struggle to access health care experienced by families in the region. As our pilot and local hospital personnel unloaded our 2,500-pound cargo of COVID-related medical supplies, a woman who had traveled on foot for hours, half-carrying her husband, approached the emergency room. But the small hospital had no space for this critically ill man. Nurses placed him in a wheelchair and attempted to relieve his breathing distress. With his wife sobbing hysterically at his side, he died. Witnessing this tragedy underlined for all of us the importance of extending health care into this region. (There is a heart-wrenching video of this tragedy, which we will not share.)
Delivering Supplies and Equipment
Many families in the tropics have relatives who live in Cochabamba. Hearing that Mano a Mano had been given permission to fly to their homelands, large groups of these relatives held fundraisers, such as radio-thons, to buy additional items like pain killers, hand-washing liquids, and gloves to add to the Mano a Mano cargo.
Emergency Airlift of Infant from the Tropics
While COVID-19 captures our attention, other health-related emergencies continue to occur. During a delivery of COVID supplies to Rurrenabaque, the hospital's physician asked that we airlift Britanny, a day-old infant who suffered from kidney dysfunction that they could not treat. Britanny and her parents boarded our aircraft's return flight to Cochabamba where the Hospital Materno Infantil Manuel Ascensio Villarroel saved the life of this baby, her parents' first child.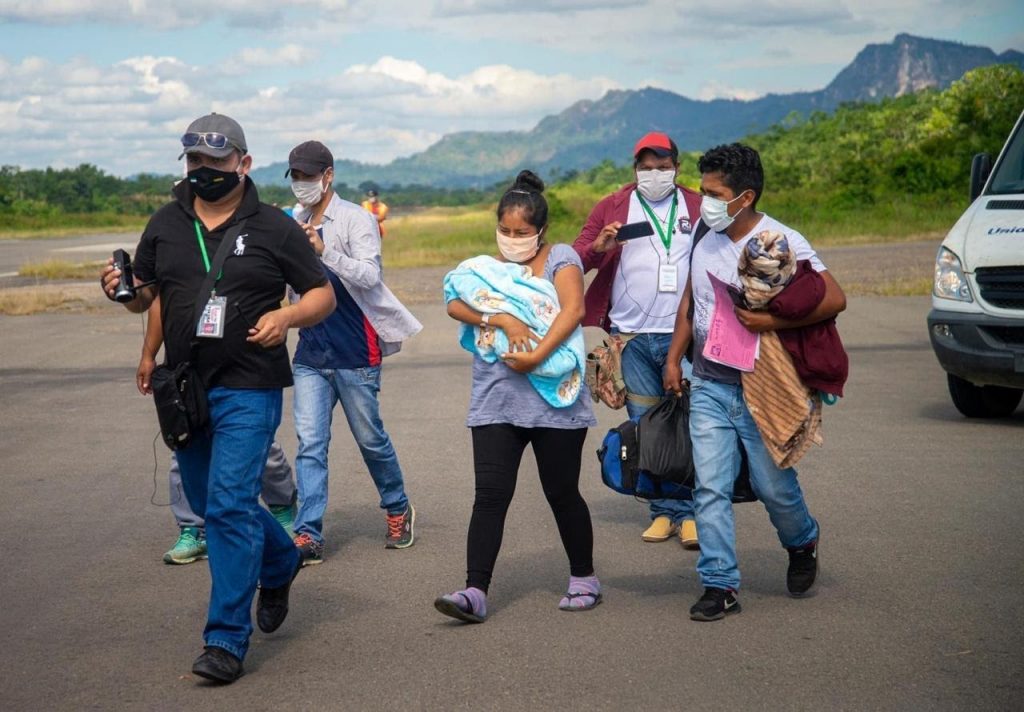 Interview at the Mano a Mano Hangar for a Flight Distributing COVID Supplies
Unitel (full news segment here) was at our hangar in Cochabamba for one of our flights in late May as we loaded the planes to transport supplies to the department of Beni. They interviewed Ben Samuel Martinez, Executive Director of our counterpart organization Mano a Mano Internacional:
---
Challenges
Mano a Mano operates the only consistent air rescue service in Bolivia. (Compare that to the Twin Cities Metro area which has at least 8 hospital-based heliports for air rescue.) Aviation always has its issues, but the pandemic has added additional challenges. In normal years, 50% of our operating costs for the aviation program is covered by raising income from private flights for Bolivian businesses, individuals, and organizations. The grounding of aircraft, and subsequent permission for Mano a Mano to fly for COVID-only purposes, have eliminated the private income sources. But we continue to fly.
Aviation Program Photos: First Half of 2020
Mid-Year Review: First Half of 2020
2020 has been a difficult year in many ways, but despite the challenges we continue to make things work as best we can. Below are a few updates from each of our programs through the first half of the year.