One of the main things that differentiates Mano a Mano is the model that we use. We are very committed to ensuring our projects are always done in partnership with communities and that they are involved in every step.
Below is a walk-through of the entire process for building a rural health clinic, although the model is very similar for all of our projects.
The Community Requests the Project
First, the community in Bolivia approaches us to request a project. This is a huge point; the local community is the driver of the process, Mano a Mano does not pick locations or projects itself. The community goes to our office in Cochabamba to request whatever project they have decided is most important, from a clinic to a school to a road or water project, and are put on the waiting list until funds are available.
Everybody has a Specific Role During Construction
When there is funding, Mano a Mano meets with the community and local leaders to sign an agreement detailing everyone's responsibilities:
Mano a Mano International (the US office) usually raises the money to provide a portion of the funding (this funding is the seed money to get the project started, that allows us to leverage funding sources in Bolivia) and also ships most of the needed medical equipment, supplies, and furnishings.
Mano a Mano Bolivia (Mano a Mano's counterpart organization in Bolivia) oversees the entire construction process and provides the skilled labor (architect and contract construction workers), construction materials, and continuing health education for the staff and local community. They also build some of the furnishings for the clinic in their shop (e.g. hospital beds, chairs, exam tables). They are the primary organization responsible for the project.
The community provides a plot of land, any locally available materials, and unskilled volunteer labor (this usually amounts to around 4,000 hours per clinic), and a portion of funding (usually 2-3%). This is a huge commitment by the community and shows how important the project is to them.
The local municipal government agrees to pay for some of staff salaries for the doctor and the nurse and include these expenses as a permanent line item in their budgets, to purchase specialized equipment (e.g. microscope, centrifuge), and provide a significant portion of funding –  in a typical clinic project about 20-50%+ of the project cost is paid for by the municipality and the community.
As part of its national health program, the Bolivian Health Ministry provides vaccinations, some medications, and free services for expecting mothers and children up to 5 years old (including its newest program that pays mothers to attend pre and post-natal checkups during the pregnancy), and also pays for the majority of the staff salaries (82% of Mano a Mano's 450+ medical staff are paid for by the Health Ministry).
In this way everyone fulfills a specific role, without which the project would not be possible. During the next phase of the process – construction – the community is involved extensively.
Typically a schedule is set up and 4-8 local volunteers work at the construction site daily alongside Mano a Mano Bolivia staff and skilled contractors – laying brick, collecting and transporting materials, cooking food for the construction workers, and anything else that is needed.
Ongoing Support after the Project is Built
The partnership doesn't end after the clinic is built. Anyone who has traveled in the developing world has seen the deserted buildings that used to be clinics or schools, but are now empty due to a lack of long-term planning and support. With our model, Mano a Mano provides most of the furnishings needed at the start for the clinic through our medical surplus program – hospital beds, exam tables, dental chairs, and basic medical supplies. Providing supplies is also an ongoing service; without supplies it is almost impossible for clinics to provide the level of service needed.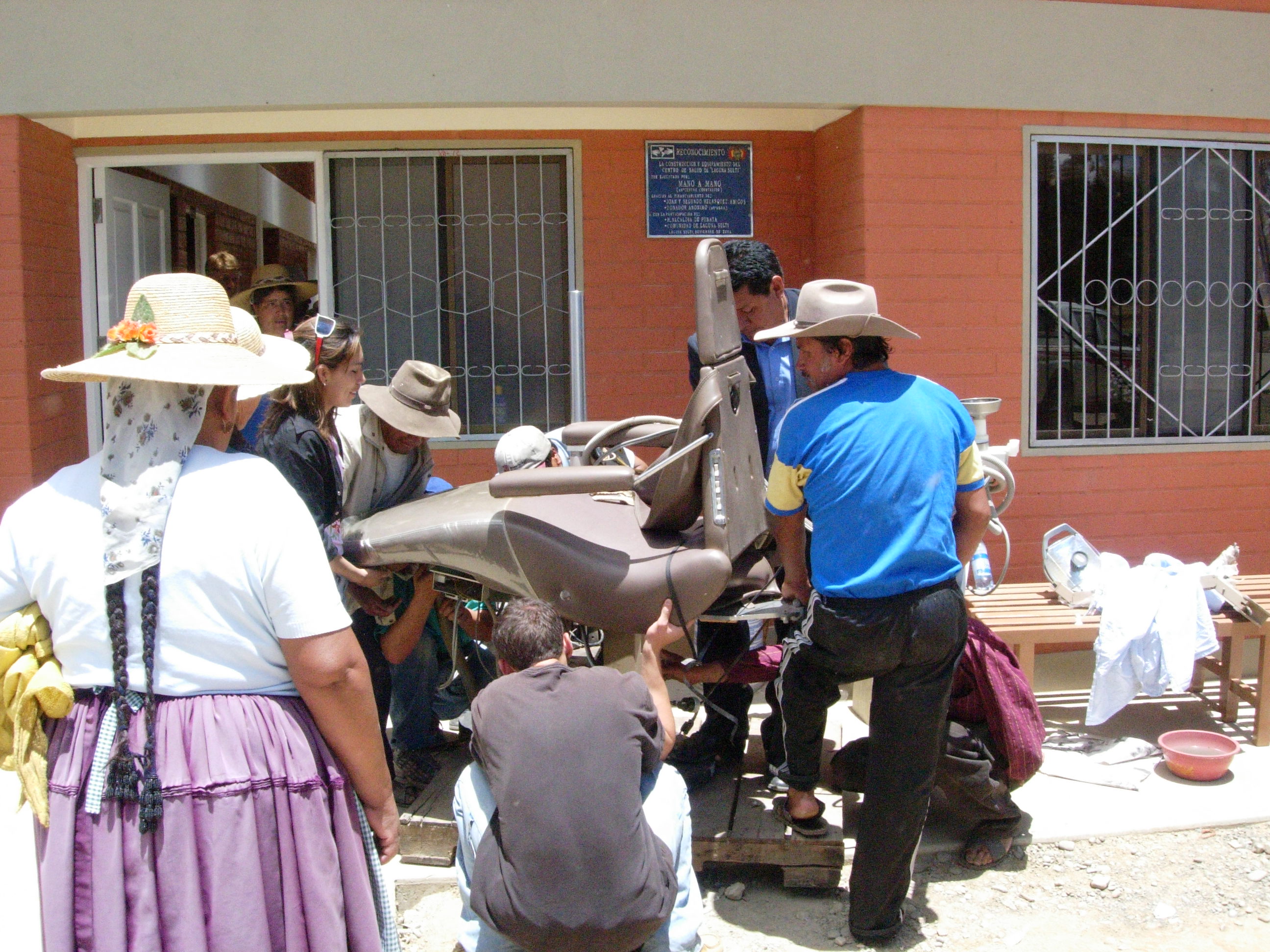 Continuing Health Education
In addition, Mano a Mano Bolivia staff provides continuing education courses for the doctors and nurses on staff, as well as basic life support training to a group of community residents that become volunteer health promoters. Our health education program has a very good reputation in Bolivia, and the program has expanded in recent years to include Acute Care International Conferences that are open to all Bolivian medical professionals, not just those working in Mano a Mano clinics.
All of our clinics are connected by radio to our office in Cochabamba to talk with our staff about difficult cases or in emergencies. As part of the signed agreement, within 3 years administration of the clinic is turned over to the community, but the health education, medical supplies and equipment, and connection with the Cochabamba office are always an ongoing service. Mano a Mano also receives quarterly reports from every clinic, detailing patient visits, births, and vaccinations, among many others, so that we are able to stay up-to-date on the performance of each clinic.
Housing Provided for Doctors and Nurses On-Site
Included in the clinic design is living quarters for the doctor and nurse. Almost all of our clinics are in extremely isolated rural areas, and without adequate housing it's very difficult to recruit and retain staff. We have had no problem in hiring and keeping doctors and nurses, and they often cite our model (consistent availability of supplies, continuing education courses, clean facilities, reliability of being paid their salary) for why they stay.
Community-Driven
The critical component to the whole process is the community itself. We work based on the notion that the community is an able and willing partner in the process to improve their own lives.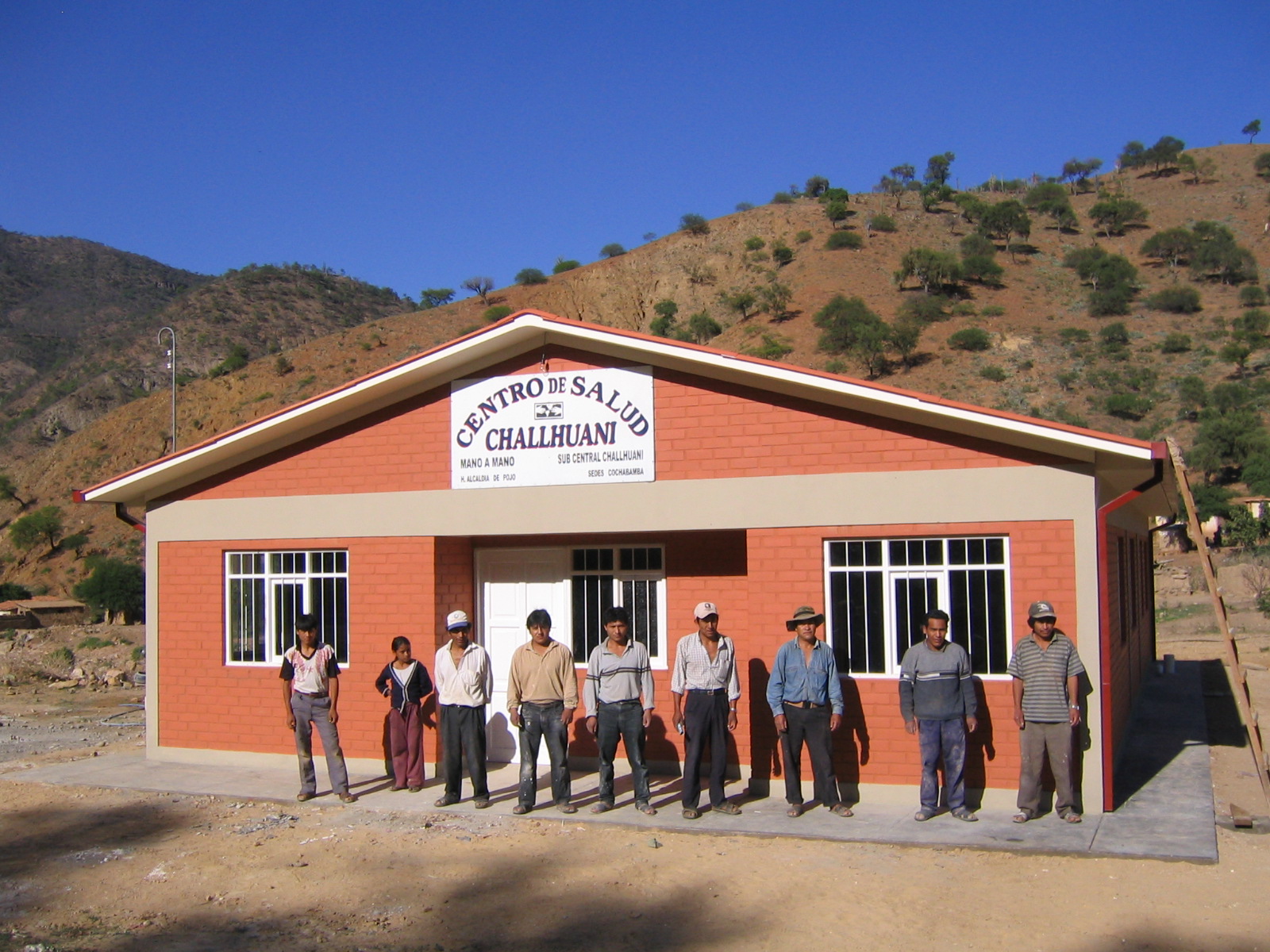 Listen to What Doctors and Nurses Working in Mano a Mano Clinics Have to Say
Building a Clinic From Start to Finish