On July 13, 2018 – 5 years ago today – Mano a Mano staff, board members, and volunteers went to Fleming Field in South St. Paul to check out the Cessna Caravan before it started its journey to Bolivia. Since arriving in Bolivia, this plane has increased the capacity of Mano a Mano's Aviation program to transport more people & more cargo, more efficiently.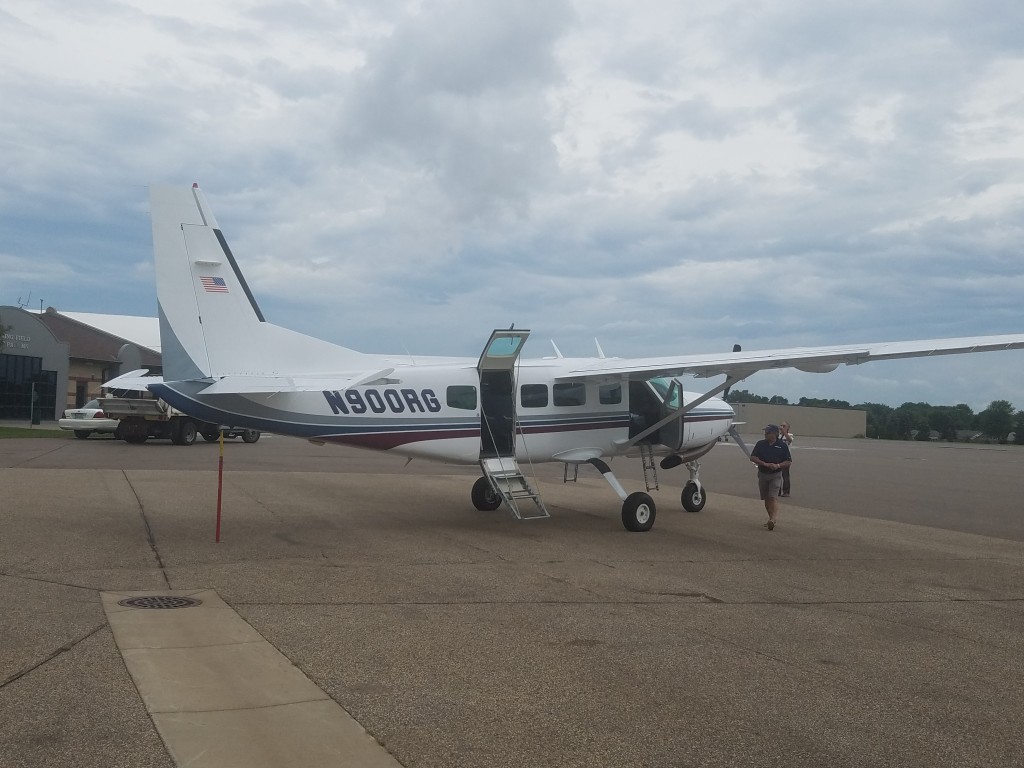 Impact of the Aviation Program in Bolivia
Mano a Mano's aviation program has 3 primary programs working with Bolivian communities that have minimal access to health care:
emergency rescue of ill and injured individuals, transporting them to urban hospitals for life-saving treatment;
weekend clinics for which we transport volunteer health care professionals into remote areas to provide primary medical & dental care
transport hundreds of thousands of pounds of cargo (including medical supplies and mobility equipment sent from Minnesota) on an annual basis.
Mano a Mano Aviation's emergency program has airlifted more than 4,500 patients to life-saving care in urban hospitals since the program began in 2005.
---
First Flight at Fleming Field – July 13, 2018
On July 13, 2018, Mano a Mano staff, board members, and supporters went to Fleming Field in South St. Paul, Minnesota for the first flight in our new plane. Special thanks to Tom Merritt, who went to Fleming Field and made this video for us.
---
Challenges to Get the Plane From Minnesota to Bolivia in 2018
After purchasing the Cessna Caravan in Minnesota in the summer of 2018 (thanks to the generous support of donors and the sale of Mano a Mano's older and smaller airplanes that the Caravan would replace), there were months of training and prep for our pilots. Our pilots first traveled from Bolivia to Orlando, Florida for pilot training for this new, larger plane. Then they flew to Minnesota on August 11, 2018. From there, the plane was flown to Tampa, Florida to have an extra fuel tank installed to minimize the number of landings. With the additional tank, the Caravan would be able to reach the Guayanas (the most northern part of the South American continent). The Caravan was then flown from Fleming Field in the Twin Cities to Cochabamba, Bolivia in October 2018. Over the next 5 months after it arrived in Bolivia, we obtained registration and certification, made the required customs payment, and received approval to purchase jet fuel for the airplane. All steps were completed and the airplane started flying in March 2019 (5 months is actually an extremely fast turnaround).
Aviation Photos in 2023
New Mano a Mano Airport Under Construction (and Why We Are Building a New Airport)
Mano a Mano started the "Punata Regional Complex" in 2021– a comprehensive project in the Cochabamba Valley's Punata region over the next three years that includes a 3rd expansion of the Laguna Sulti agricultural water reservoir (complete); a new public school (complete); a deep well for potable water (complete); a three-mile road; infrastructure needed for moving our aviation program from the Cochabamba airport; and preparation for a rural Center for Ecological Agriculture (CEA).
We currently have a hangar at the main airport in Cochabamba. Several years ago, we were informed that only commercial airlines would be able to use the Cochabamba International Airport at some point in the future. This decision is consistent with airport operations in most countries, which consider it unsafe to serve aircraft that fly at vastly different speeds. It asked that Mano a Mano's aviation program, flight school operators, and other owners of private aircraft begin to search for alternative options. Unfortunately, there were no regional airports that could serve our purposes in the entire country of Bolivia.
To ensure the survival of our aviation program, Mano a Mano began a two-year long, intensive search for land on which to build a small regional airport within easy driving distance of the city of Cochabamba. We had the good fortune of finding an ideal location within 30 miles of the city in the municipality of Punata. Because Mano a Mano has demonstrated capacity to construct infrastructure projects that support community-identified needs, we offered to exchange the building of community-requested projects for land in the local community (these projects include a new school, new water well and water tower, and road, among others; most of these community projects were completed in 2022). We have named the entire comprehensive project the Punata Regional Complex.
On Saturday, May 20, 2023 Mano a Mano was present for a celebration marking 15 years of projects in the Laguna Sulty area, and highlighting the progress being made on the Mano a Mano airport in Punata.
---
Learn More About Mano a Mano's Aviation Program