2020 has been hard. We are grateful to our staff and volunteers; our supporters; and the communities and municipal governments that we partner with. Working together, and despite the many challenges, we continue to create partnerships that improve health and increase economic well-being for Bolivian communities in need. As 2020 comes to a close, we want to highlight the 5 most viewed posts on our website.
Here are a few other recent highlight posts:
5 Most Popular Posts of 2020 (click the headline for linked posts):
Mano a Mano's biggest strength is our community-based partnership model – bringing many people together to accomplish things that none of us could do on our own. Every activity, every project new or old, every event, depends on the dedication & effort of many people. As we look back at what we were able to do in 2019, we want to thank you:
the communities & municipal governments in Bolivia;
the people, schools, churches, community organizations, and foundations in the US;
the people from many other countries that support Mano a Mano;
the core Mano a Mano staff & volunteers at all 5 of our counterpart organizations in Bolivia and the US.
From the mid-year review by Executive Director Nate Knatterud-Hubinger, posted in July 2020:
"With quarantines in Bolivia and stay-at-home orders in Minnesota since March, much of our daily work has been impacted, and we know this will continue to be a challenge for the foreseeable future. Our offices were mostly closed from March-June, although we continued to work remotely. We have had to push back new construction projects, and were unable to ship supplies from Minnesota to Bolivia during this time due to border closings and a challenge in locating containers. Our aviation program was grounded for 2 months, like almost all flights in Bolivia during the quarantine. Our trips to Bolivia were canceled, and at this point we are not expecting to host any in-person events or lead any trips to Bolivia until 2021.

What is remarkable to me is how much we have still been able to do over the first half of 2020, despite the challenges. The 4 containers we shipped in November of 2019 arrived in mid-March 2020 – the day before Bolivia instituted country-wide stay-at-home orders. These legal orders halted all public and nearly all private transport within the country and across its borders, and required that residents only leave their homes once weekly. Our counterpart Mano a Mano Internacional staff and their most active volunteers began sleeping overnight at the CEA to unpack the containers and prepare COVID-related materials for distribution, while obeying shelter-in-place requirements there. Over the past 4 months we have been distributing tens of thousands of pounds of supplies throughout Bolivia…

What I am most impressed with is our people – our staff and volunteers in Minnesota, Bolivia, and elsewhere, and the communities and organizations that we partner with. Every single project we do is extremely challenging, very hard work. I need to do a better job conveying just how much goes into each project; this was true before COVID-19, and is even more true now. Our staff and some volunteers have been staying overnight at our warehouse in Cochabamba to distribute supplies. A few of our staff working on water projects walked home from the Cochabamba area to Oruro when the quarantine went into effect and transportation wasn't available; that's a 133-mile walk, in the Andes at elevations from 8,000-11,000 feet above sea level, which would take at least 3 days. Loading a container with supplies in Minnesota represents at least 6 months of work picking up, sorting, packing, and preparing supplies to ship; it takes 3 months minimum for the supplies to arrive in Bolivia (which is the best case scenario), and then will take many more hours and weeks of work for our Bolivia staff to re-organize and distribute them throughout Bolivia – often by plane, often driving 5-10+ hours each way to get to more remote regions of Bolivia. Projects that are now under construction have usually included years of prep work and planning, dozens of site visits and meetings with communities and leaders, and lots of work to coordinate timelines and fundraising and specific responsibilities, before any construction begins. Every project we do is like this; the work is never easy."
On March 26, 2020, Mano a Mano staff Juan and Blanca, escorted by an an ambulance due to the quarantine, went to our warehouse on the outskirts of Cochabamba to pick up a few boxes of medical supplies to donate in Santivañez. A man visiting from Spain went to a two-day wedding party in Santivañez, 25km south of Cochabamba. He tested positive for COVID-19, potentially having infected hundreds of wedding guests. Local health authorities were desperately searching for N95 masks. Mano a Mano was escorted by ambulance to the Mano a Mano warehouse to retrieve 120 N95 masks.
Every year Mano a Mano's aviation program airlifts 300-400 seriously ill or injured individuals from remote locations in Bolivia to urban hospitals. But when the pandemic reached Bolivia in March, all flights were grounded, both within and out of the country. After ten weeks of quarantine, we received permission to fly for COVID-related purposes in May. 
While COVID-19 captures our attention, other health-related emergencies continue to occur. During a delivery of COVID supplies to Rurrenabaque, the hospital's physician asked that we airlift Britanny, a day-old infant who suffered from kidney dysfunction that they could not treat. Britanny and her parents boarded our aircraft's return flight to Cochabamba where the Hospital Materno Infantil Manuel Ascensio Villarroel saved the life of this baby, her parents' first child (pictured below).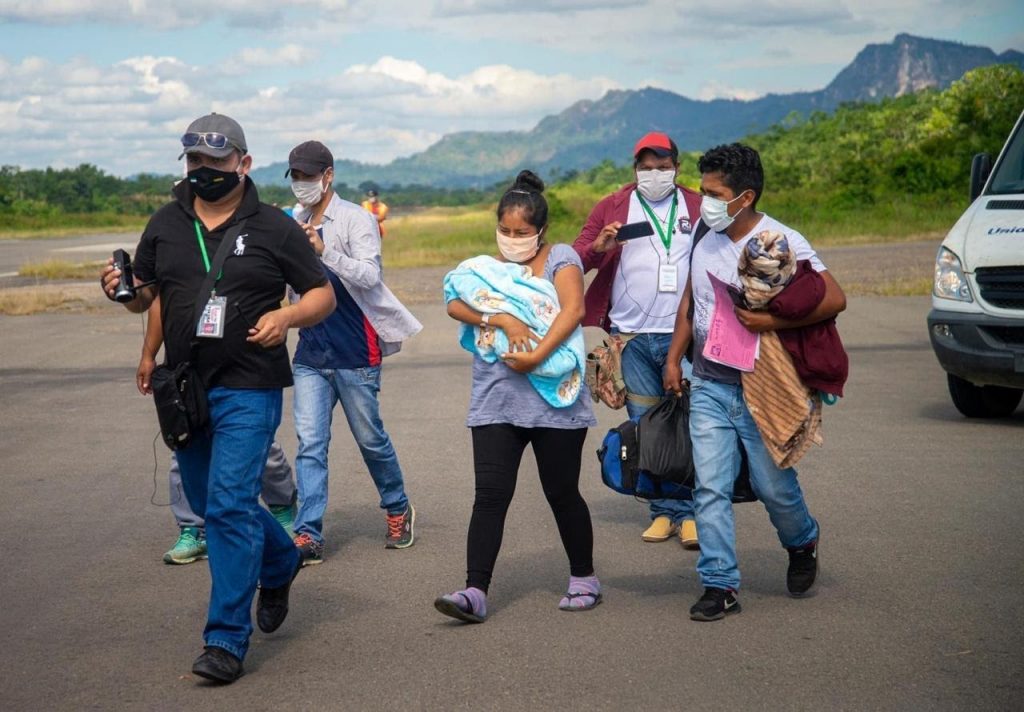 This story begins in 2010.
Sandro was a 28-year-old father of three at the time. Because his land didn't have access to water, he couldn't raise crops so he worked as an indentured servant for another farmer. He called himself a wata runa, a Quechua phrase that means literally a "tied man". When Mano a Mano started building a pond from which he would be able to access water, Sandro hurried to till his plot, about the size of a city lot in the U.S., and planted potatoes. Just three months after the pond was built, he harvested his potatoes. Then he walked for over ten hours through the Andes mountains to thank Mano a Mano for the gift of water. He brought big beautiful potatoes as a gift to the staff who were visiting the area. "I have harvested half of my potatoes," he said, "I have enough for my family to eat. The rest I will sell. I am no longer a wata runa – a tied man."
Fast forward to 2020.
While working on its 136-mile road project in Omereque, Mano a Mano staff met Sandro Rendón again.
He proudly showed them the land he now farms, land that used to lay idle for lack of water. He pipes pond water for a little more than half a mile to the field where he planted peppers this year. He had just harvested 80 crates of peppers. Because the pond provides enough water for two crops, he expects to harvest 160 crates of pepper this year. He will definitely have plenty to sell!
Thanks to his hard work, and to the water pond that has served them since 2010, the family is well-fed, healthy, and their children attend school.
Because Mano a Mano had come to his community again, this time to improve area roads with its heavy machinery, Sandro asked for help with opening and clearing a new fourth field where he can plant more crops. Given Sandro's attentiveness toward the needs of Mano a Mano's machine operators, who live in make-shift campsites far from home for months at a time as they work on construction projects, we were eager to assist. He paid 250 Bolivianos, ($36 – minimal charge) to help cover the cost of diesel for the machine.
Last week Sandro visited the group again, this time with gifts of newly harvested peppers, onions, and tomatoes.