Distributing Supplies in Bolivia – March 2020
We were looking forward to this distribution of donated medical supplies on Saturday, March 14th to be the first event for our group of Minnesota travelers visiting Mano a Mano. While the trip had to be canceled, and the event reconfigured in light of the coronavirus, Mano a Mano still distributed supplies. All of the supplies are sent from our Saint Paul warehouse, and are distributed to people & organizations in need throughout Bolivia.
Distributing Supplies Under a Tree, Outside
From our friend Tracy on Saturday:
"Mano a Mano keeps up the good fight! I just dropped in on the Cochabamba warehouse, where at this very moment, María Blanca Velásquez Urey and the Mano a Mano Internacional staff and volunteers are turning over TONS of medical supplies to a few dozen medical entities, from rural clinics to level three hospitals. There are always short speeches of thanks and recognition in the Mano a Mano warehouse, packed high with boxes of what the medical personnel will be taking with them. I call it the Cardboard Cathedral, a temporary, but nontheless beautiful structure. The Cathedral has been rebuilt yet again, but today, they're holding the ceremony under the big tree and a tarp, so as to keep social distance. I'm so proud of my wife and her sons and brothers."
Pictures from Saturday's Distribution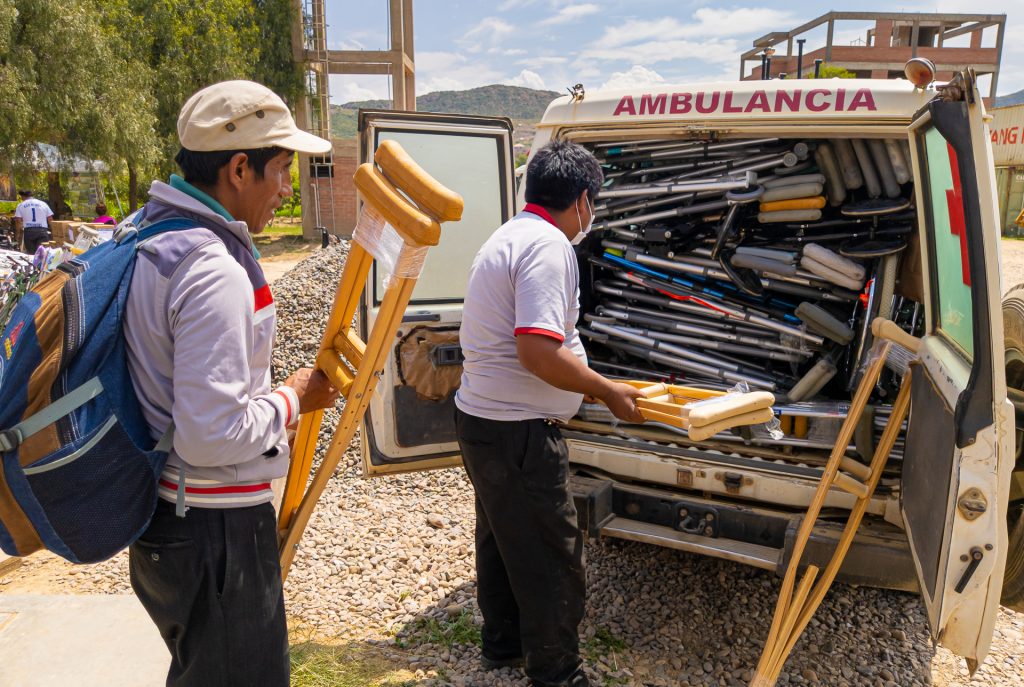 Supporting the Public Health Infrastructure of Bolivia
The supplies we send from Minnesota are distributed to people & organizations in need throughout Bolivia. The need is always great; we distributed 6,229 mobility aids in 2019, and we continue to be asked to send as many as possible, even before the added recent burdens on public health systems.
Distributing Supplies to Bolivian Hospitals
The video shows a few distributions made in October 2019, including the donation of a wheelchair to a person in need at our warehouse and a larger distribution of supplies & equipment to the Hospital Dr. Manuel Ascencio Villarroel in Punata.
Supporting Mano a Mano's Network of 170 Rural Health Care Clinics
Donating Supplies to Individual Bolivians in Need
This was one distribution of many that we do on a regular basis; Blanca, Ben, and Juan from Mano a Mano Internacional traveled to Potosi – an 18-hour drive round-trip from our office in Cochabamba – to deliver medical supplies and equipment to people with physical limitations on January 2nd. El Potosi newspaper wrote an article about the distribution event on January 2, 2020, which is translated into English below:
"Mano a Mano, the Villa Imperial Rotary Club, and the Government of Potosi delivered medical supplies and equipment to people in Potosi with physical limitations.
Thanks to the efforts of Mano a Mano and Maria Blanca Velasquez, CODEPEDIS of the Government of Potosi, and the Villa Imperial Rotary Club, 16 wheelchairs, 120 walkers, 20 rolling walkers, 120 pairs of crutches, 120 canes, and 5 pairs of forearm crutches were distributed. In addition, medical supplies and equipment were given to the Betanzos nursing home, the Bolivano Cubano San Cristobal Hospital, and the Hospital Daniel Bracamonte. These donations were made possible by Mano a Mano and Rotary Clubs in the US and Canada. The distribution was held in the Potosi Government Hall, with the participation of Governor Omar Veliz, Maria Blanca Velasquez, Rodolfo Lizarazu Pantoja representing Rotary D4690 Governor Marco Antonio Salinas, representing the wife of the Rotary Bolivia Governor Gloria Bobarin de Lizarazu, Rotary Club Villa Imperial President Hernan Venegas, Rotary Club members, CODEPEDIS Director Emilio Reynaga, and Dr. Elio Martinez
Dar de si antes de pensar en si (the Rotary Club's slogan: "Service above self")."
Thank You!
We are extremely grateful to everyone that supports Mano a Mano and our efforts to improve people's lives. In these challenging and uncertain times, please know that we appreciate you, and what we do together is part of a larger combined effort to make a difference for thousands and thousands of people. You may not have thought that stopping by Mano a Mano to put some stuff in a box for a few hours last summer was that big of a deal, but your help then is why we can distribute hospital clothing and supplies to Bolivian healthcare organizations right now (part of the distributions last Saturday). Thank you!