Many think of aviation as a luxury. But for many in Bolivia, small aircraft provide their only access to health care, literally the difference between life and death. Comparing Bolivia's roads and helicopter services with what's available in Minnesota helps paint the picture: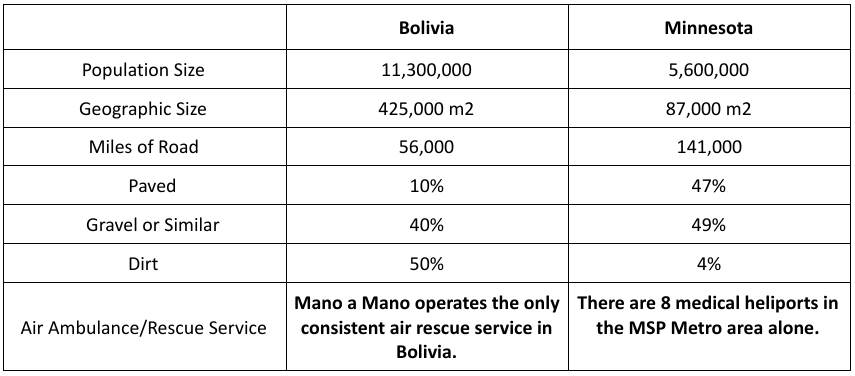 Note that Bolivia has twice the population of Minnesota and five times the land size, yet Minnesota has 2.5 times the number of road miles, 47% of which are paved compared to only 10% in Bolivia.
A documentary made about Mano a Mano's aviation program in Bolivia and our pilot Ivo Daniel Martinez is now available to watch on Amazon Prime Video and Vimeo On Demand. For Amazon Prime Video: log on to your Amazon Prime Video account (you must have a Prime subscription to watch); search for "On the Wing"; go to Season 2, Episode 1 – "Pilot of Hope."
Aviation Bridges all Mano a Mano Programs: Examples from the Field – 2020
COVID-19 restrictions resulted in major changes in our use of aircraft in 2020. As the year began, Bolivia started to emerge from the turmoil surrounding the October 2019 presidential election. Mano a Mano delivered boxes of medical cargo to tropical hospitals, rescued injured patients, and held volunteer-led weekend clinics. And then…the pandemic reached Bolivia. In mid-March 2020, all aircraft were grounded and most vehicle traffic halted.
Aviation staff and volunteers worked tirelessly to respond to increased need while complying with restrictions. Here's what they accomplished.
Delivering Medical Supplies, Focused on Personal Protective Equipment (PPE)
Traditionally, we had delivered supplies while on one leg of a flight to rescue a patient or conduct a weekend clinic. During 2020, PPE delivery became a primary task. The addition of a 14-passenger Caravan aircraft in 2019, and its much larger available cargo space, made it possible for Mano a Mano to carry loads of 2,500 pounds, which would include boxes of masks, face shields, gloves, ambu bags, oxygen concentrators and other PPE, much of which had arrived via our four-container shipment the day before transport came to a halt in March 2020.
After nearly two grounded months, we finally received permission to fly in May, often being the only aircraft in Bolivia's skies. In spite of the unprecedented challenges, our aviation program made 452 flights and transported about 95,000 pounds of medical supplies and equipment in 2020.
Emergency Flights for the Ill & Injured
During most years, the aviation program airlifts about 260 patients from remote Bolivian communities to care in urban hospitals. But 2020 was not an ordinary year. Given months-long restrictions to fly for COVID purposes only, we airlifted 131 patients, most with COVID, often having to scour the country for a hospital that would accept them. Later in the year, we were permitted to respond to other patients with other life-threatening emergencies, like Nazaria and Herminda.
On November 25, we received an urgent call from Oromomo, a remote Amazon-basin village, asking that we airlift two women. Nazaria, age 55, had a tumor which was bleeding profusely; 72-year-old Herminda suffered from tuberculosis that had advanced to the point that she could barely breathe. We airlifted both patients to the Hospital de San Ignacio de Moxos where they received needed treatment. After they recuperated, we flew them back home to their families.
Weekend Health Clinics
Given the priority for COVID-related care and prevention, our weekend clinic program was suspended for about eight months. Mano a Mano organized seven weekend clinics in collaboration with a medical missionary group and completed three with our aircraft in December, when we were allowed to fly for this purpose.
Thank You
Thanks to everyone who contributed, loaded and distributed the medical cargo that was flown to the most remote regions of Bolivia that had no other means of accessing it; to those who made it possible for us to rescue patients when no one else could; to those whose generous funding sustains this program. We simply could not do this work without you!
Mano a Mano Aviation Program in Pictures: 2020