Mano a Mano's recovered resources program – the program that started Mano a Mano nearly 30 years ago – collects donated medical supplies, mobility equipment, and other items in Minnesota for shipment to Bolivia, where they are distributed to people and organizations in need throughout the country. We also make supplies available for individuals and nonprofit organizations in need in the Twin Cities area.
Below is a list of the items that are currently our highest priority: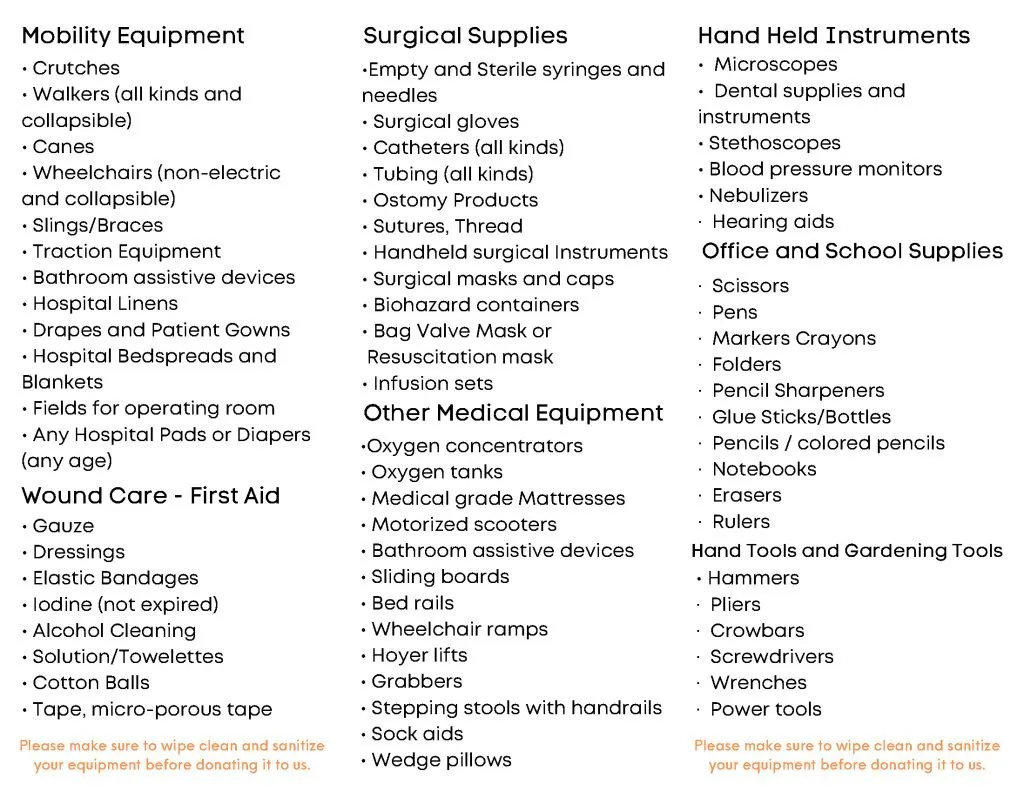 Downloadable PDF Version
Here is the wishlist in PDF form.
Contact Us With Any Questions
There are limitations to what we can take – we can't guarantee that if you have a garage or warehouse full of items, that we would have the space to accept or the funds to ship all of them, even if those items are on the list – and there are many other items that we would consider, based on our available space, timing of upcoming shipments, the item in question is still relatively high priority even if it's not listed, etc..
Please contact us by phone (651-457-3141) or email Carmen ([email protected]) if you have questions. In general, Wednesdays are the best day to drop things off at our office/warehouse in St. Paul (925 Pierce Butler Route, St. Paul, MN 55104), but normal office hours during the week are usually OK too. When in doubt, call us!
---
Other Resources
If we can't take your items, maybe someone else can! Here are a few organizations that we work with that may be a fit for you (or they may know where may be a fit):
Reuse Minnesota – "We build partnerships and support a vibrant network of reuse practitioners through education, advocacy, and promotion." (They have a directory of organizations here.)
Bridging – "Bridging empowers people to thrive in their homes by providing quality furniture and household goods for those pursuing housing stability. Since 1987, Bridging has furnished more than 110,000 households."
MATTER – "We help people launch projects that improve communities."
Learn More About our Recovered Resources Program